Date: 09/26/2010: iOutdoor fishing trip,
Customer: Joe Del Giorno,
Joe as he caught his largest Tarpon ever….
Joe Del Giorno was able to break free on his last day in port after his 270 foot Coast Guard Cutter made a last minute decision to dock at Port of Miami. After removing the second largest amount of Heroin from the ocean on Coast Guard record, we knew the fish gods where going to bring a smile to Joe at some point in the day as a reward for his great service.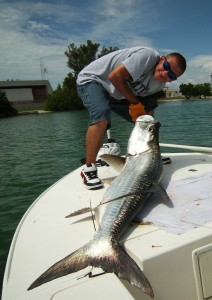 The day stated with a frown however, as a storm with no end in sight decided to great us at Homestead Bay Front Park where we thought we would be leaving in search of Lemon Sharks and Bonefish on the flats.  Seeing the storm on radar made our decision to head back north and change gears for Tarpon that had been holding in a few areas.
With the mullet run in full effect north of Miami, I was happy to see the start of it here in Miami with finger mullet showering near the Tarpon areas.  A few spot cast with the net and we were loaded with 4-7 inch finger mullet and decided to let them jitter nervously in between rolling Tarpon.  These Tarpon are generally lock-jawed and some of the hardest to catch in Miami but they could not resist the jittering and soon there was the blast of a Tarpon and the scream of the rod. With several jumps, long screaming runs and hour of Joe's great fighting technique;  we landed the monster Tarpon estimated at 120lbs.  It was Joe's largest to date and something he will never forget.
Not long after, a rod slams down and a 80lb Tarpon sky-rockets towards the boat spitting a scale free mullet at Joe and me all the while landing head first 3 feet from the boat.   It was incredible and you could actually see the Tarpon as he shot under the boat and out of site into the deeper water.  Next up was a 30lber that Joe was able to land in about 10 minutes and take another photo.  Shortly after we decided to try another spot that had been hot and we found it to be warm.  Joe quickly jumped a 75lb Tarpon that may have provided the most spectacular jump of the trip.  At this spot Joe was able to catch a monster Mangrove Snapper for day time fishing on a finger mullet which we released and fun with several 5-8lb Jacks that exploded on the finger mullet.
We had some great conversations and it was a great day for Joe as he caught his largest Tarpon ever.  It certainly was a pleasure to fish with someone providing such a great service to our country.  I look forward to Joe's next stop in port.
Capt Tom